"En el Nombre lleva la Fama, y en el
Producto la Calidad"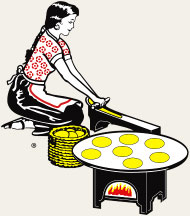 El Milagro is a small family-owned tortilla company that started in 1950 in the bustling city of Chicago, Illinois.
Quality is a word that is not used lightly at El Milagro. From the beginning, we have always made the best tortillas we know how. Our corn tortillas start with whole kernel corn that is carefully selected and ground in our plant - We never use pre-processed corn.
El Milagro knows that the rich variety of Mexican cuisine demands a variety of tortillas; That's why we produce a full line of quality tortilla products for every application. El Milagro's success is due to the fact that quality has been the most important ingredient in all of our products.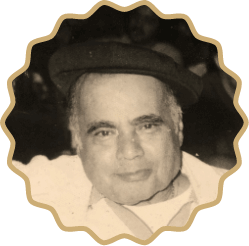 Orphaned at the age of 11, young Raul Lopez was sent to live with his uncle Miguel, a leading molinero in Mexico City. While his dream was to enter the bullring, economic necessity plus early exposure to masa manufacturing inevitably led him into the tortilla business. His friends affectionately called him "El Torero" in recognition of his youthful dream.
After gaining some experience in his trade, Mr. Lopez came to the United States in 1942 in hopes that he could start a successful business. In the early days, he labored full-time as a trackman on the Illinois Central Railroad, but any moment of free time was spent making and peddling fresh tortillas throughout his community.
After establishing El Milagro in 1950, he began working hard to make his dream a reality. With his passion for crafting authentic tortillas and determination to succeed, Mr. Lopez was able to soon grow El Milagro and eventually quit his railroad job to devote himself full time to the tortilla manufacturing company.
Raul Lopez was a man with vision who was able to see and work ahead of his time. He worked closely with a friend, Frank L. Herrera, to bring in innovative food manufacturing equipment (some are still being used at El Milagro today.) Mr. Lopez saw so much success as an El Milagro salesman and promoter that Mr. Herrera declared, "You could sell sand in Arabia!"
Mr. Lopez's dedication to his dreams and values was evident even outside of his business. He learned to play guitar, piano, and violin and was very active in his church and community. He was devoted to his wife, 12 children, grandchildren, and eventually great-grandchildren...loving them all and welcoming them to join him in his work at El Milagro.
Through his innate ambition, optimism, and just plain hard work, Mr. Lopez brought the tiny house-grown tortilla operation of El Milagro to its current dominant role in the Midwest Market.
The key to El Milagro's success is Raul Lopez's love & commitment to tradition & quality; those of us who carry on his legacy at El Milagro continue to uphold his values every day.